This is a community website dedicated to the Freeform TV Series
Stitchers. Anyone may edit articles or create
new ones, and in this way we can all work together to build this wiki into
a community site that anyone can enjoy. Photos and videos are a great way to add visuals to your wiki.
Find videos about your topic by exploring Wikia's Video Library.
The show follows Kirsten, who has been recruited into a government agency to be "stitched" into the memories of people recently deceased to investigate murders and mysteries that otherwise would have gone unsolved. Cameron, a brilliant neuroscientist, assists Kirsten in the secret program headed by Maggie, a skilled covert operator. The program also includes Linus, a bioelectrical engineer and communications technician. Camille, Kirsten's roommate and a computer science grad student, is also recruited to assist Kirsten as a "stitcher". After being more of a thorn on their side, Detective Fisher is also recruited into the Stitcher's Program.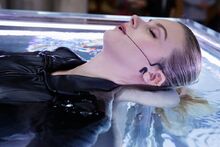 All In is the 10th and final episode of Season 2 of Freeform's Stitchers.

Now closer than ever to uncovering the mysteries surrounding her family, Kirsten uncovers a shocking secret in the season finale episode of "Stitchers" which aired on TUESDAY, MAY 24 (10:00-11:00 p.m. EDT), on Freeform.

Kirsten is angered by Liam's treachery, but before she can find her father to seek answers, he disappears. She searches for information, but gets more than she bargained for when she discovers a shocking family secret. Now Kirsten finds herself heading down a dark and dangerous path into her own memories to seek the truth - at any cost.
DATA RESTRICTED: NSA Security Clearance Level 8 or Higher Needed to Access Restricted Information
Ad blocker interference detected!
Wikia is a free-to-use site that makes money from advertising. We have a modified experience for viewers using ad blockers

Wikia is not accessible if you've made further modifications. Remove the custom ad blocker rule(s) and the page will load as expected.